DSA Promo
At the request of the author, for the next few weeks, UnsafeMedia has agreed to make Don't Think Of A Republican available in PDF format, free of charge, to those who've been provided this link.

No obligations. No catch. We will not use or sell your data. We will not solicit you in the future. Just a promotion.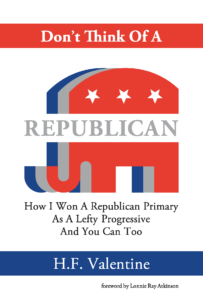 Don't Think Of A Republican
How I Won A Republican Primary As A Lefty Progressive And You Can Too
by H.F. Valentine
A curation of the scandalous rhetoric and the unprecedented electoral truth-telling employed throughout H.F. Valentine's groundbreaking campaign, Don't Think of a Republican proves, as badass as his candidacy may have been, the idea of running a lefty progressive in a Republican primary was not really all that bonkers.
While the PDF version of the book is free, you are always welcome to buy a physical copy or provide the author whatever gift you deem reasonable. For the duration of the promotion, all voluntary gifts will go directly to the author.